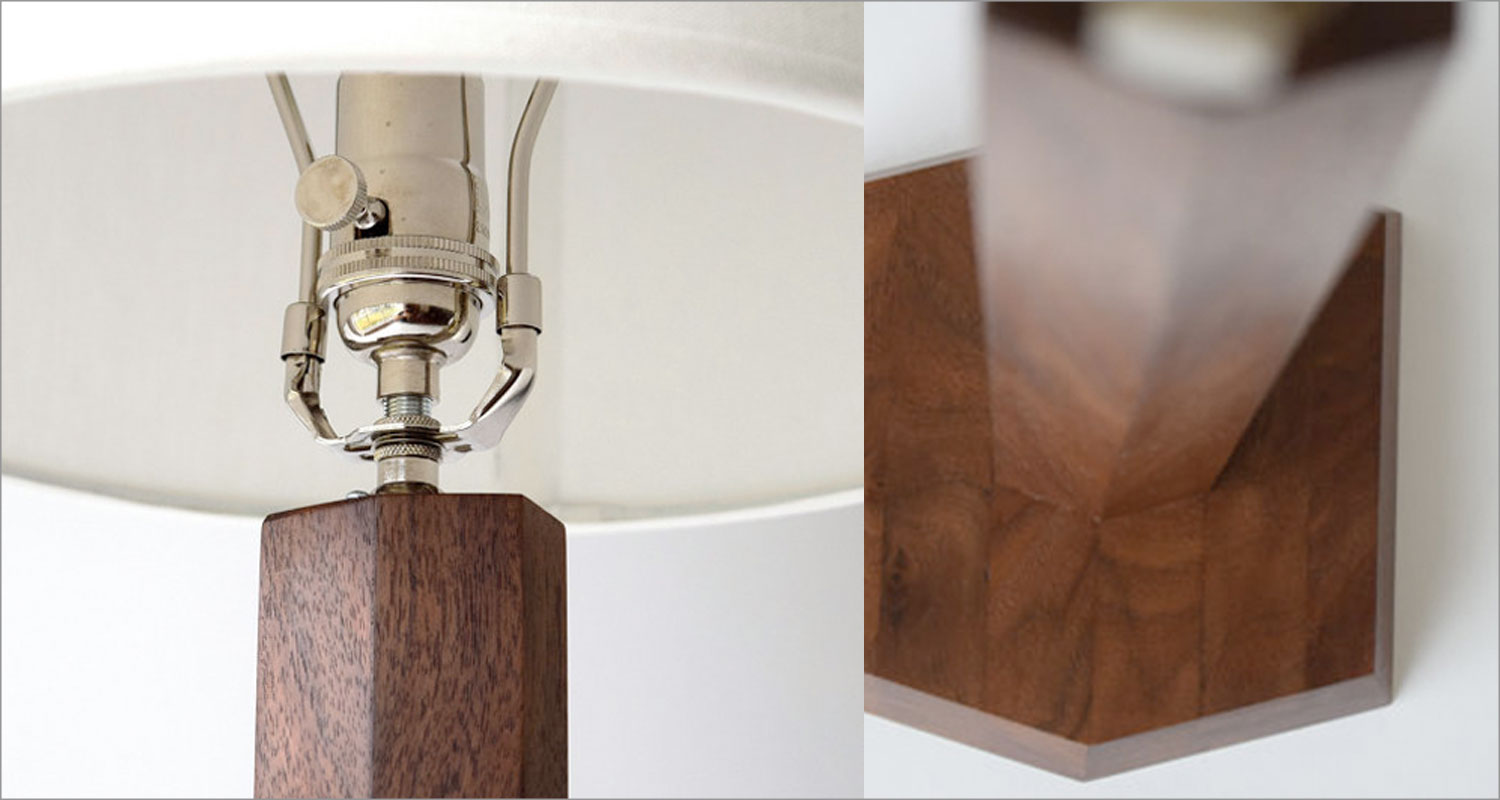 Handcrafted furniture was a foreign concept for me growing up. I am originally from a small farming town in Iowa, where woodworkers seemed rare. I was, however, surrounded by practical people who knew how to work hard doing practical things. I found myself as a young adult involved with furniture on the retail side--selling mass-produced pieces for a big-box store. Seeing the inherently disposable nature of these massive chunks of unnatural materials, I began to experiment with making pieces of my own. Now, several years later, I am a self-taught furniture maker, focusing on one piece at a time with antique techniques and tools--many of them hand-powered--with an eye towards quality and thoughtfulness. I design everything I build from scratch with heavy influences from mid century modern furniture, natural live-edge lines, and modern minimalist design.
Website: boundaryfog.etsy.com
Instagram: @joe_thiele
Phone/Email: 406-210-1623; joe@boundaryfog.com
Hexagon Table Lamp
Description/Materials: Black walnut, solid brass socket with polished nickel finish, rayon twist cord, handmade ivory linen shade
This table lamp is heavily inspired by the geometric lines of mid century modern furniture. Made entirely of Oregon black walnut, the base of the lamp is laminated in a butcher block style to show off the incredible depth of color and grain that can come from a single piece of walnut. The angles on the base create an approximated hexagon, which is also carried into corresponding angles on the faces of the column. The cord is a silver rayon twist cord, with a vintage-style button plug.
Nickel-plated, solid brass socket, fittings and harp are ready for any washer-style shade. The shade pictured is an available option. It is covered with a handmade ivory linen fabric. For reference, the shade dimensions are 12" diameter and 9" high.
D I M E N S I O N S
H: 29"
W (Base): 6.5"
D (Base): 7"
Price: $248 each (includes linen shade); $198 lamp only